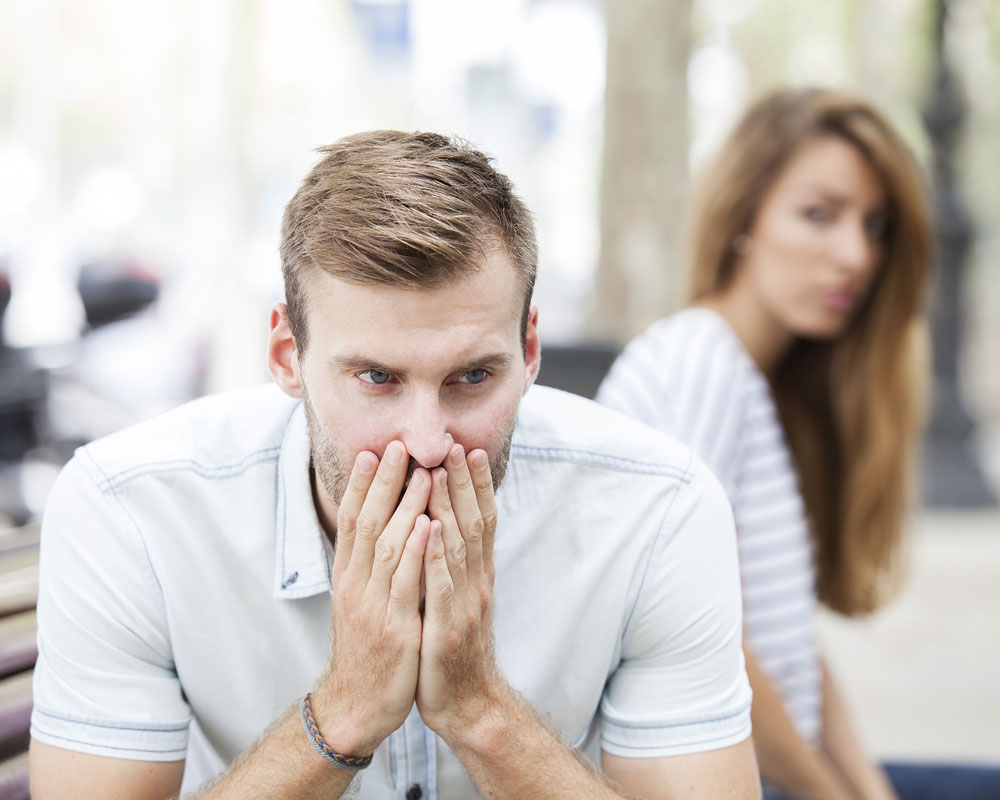 Every relationship has its ups and downs.
When things are fine, you think you'll be together forever. When the brown stuff hits the fan, you wonder whatever possessed you to think you were compatible.
Researchers have mapped out the stress points in relationships: times when relationships are particularly vulnerable to stressors that fracture your connection.
It's something we all should know:
When are our relationships most at risk?
Some believe the time of year has something to do with it. You may have seen the peak break-up times graphic created by David McCandless and Lee Byron back in 2008 from Facebook status updates. The data suggest that breakups are more likely during certain times of the year than others, particularly just after Valentine's Day and just before Christmas.
Another study claims that the Tuesday before Valentine's Day, nicknamed "Red Tuesday," is prime dumping day for many couples.
The vagaries of holidays and seasons aside, few of us consciously break up because summer's coming or we don't want to splash out on a Christmas present.
We break up because things aren't working.
Every single couple, if they stay together long enough, will experience the end of the honeymoon period and the beginnings of conflict, in a stage known as "the power struggle."
Immature couples may believe that the decline of rose-tinted romance and increase in arguments means their relationship has reached its natural end.
If you think things have to be fantastic all the time, your relationships will crash and burn more often than a racing car.
Being newly in love provides a chemical hit to the brain that's not unlike the hit experienced by drug addicts. Romance addicts, who seek thrill after thrill of new love, are especially unlikely to stick once those happy chemicals decline.
But not all couples break up after their first fight. They see arguments as opportunities to build negotiation skills and respect different points of view. They remain committed to working though their issues and building a life together.
Despite their convictions, it's not smooth sailing ahead. Danger zones lurk, including the birth of their first child, their 4-year anniversary, and retirement.
Danger Zone #1: Birth of the First Child
Most of us assume that having a child together cements our bond. We marry and immediately set about starting a family.
But having a child places an enormous amount of stress on a fledgling marriage.
Many couples report feeling less happy after the birth of their first child—no doubt because of the sleepless nights, endless demands, and social isolation.
If the marriage remains strong, the second child tends to be easier, because couples know what to expect and have a system in place.
Danger Zone #2: 4-Year Mark
The next weak point in a relationship is at the 4-year mark.
Dr. Helen Fisher, evolutionary anthropologist at Rutgers University, suggests that we are conditioned to experience a 4-year-itch in our relationships.
Our ancestors, she argues, typically remained with a partner long enough to rear a child to toddlerdom and then split to seek fresh genes.
Certainly, boredom strikes at a certain point in all relationships. Maybe we can't put up with something we once thought we could live with. People change, and what they want out of life changes.
But the average first marriage lasts 8 years, indicating that couples do try their best to make it work. They don't just get itchy feet and give each other their walking papers. Instead, they seek relationship advice, spice things up, go on date nights, or try counseling as a last-ditch effort to find common ground.
Danger Zone #3: Retirement
When you look at a couple who's been together 20 years, you assume that nothing can separate them now. Look at how long they've been together! That kind of commitment is admirable. We need more marriages like that.
Except they're not out of the woods yet.
Even then—after everything a couple has been through, after the children and the mortgage and the illnesses and the crises—they have one more hurdle to face:
Retirement.
Divorce for over-50s is on the rise, and retirement plays a part. Couples who've been used to a certain routine are suddenly thrown together 24-7 without a job to go to for social support or professional satisfaction.
A man who's been used to managing an office may try to manage his wife and home. A wife who's become used to doing her own thing now finds she has to entertain her hubby. It becomes apparent just how much work contributed to a sense of purpose and feeling valued.
Luckily, there are plenty of guides out there for the post-retirement couple, with tips to ease the transition.
In fact, there is information available for couples at every step of the way.
If a couple is truly committed to sticking it out, they don't have to settle for what they've got. They can actively address their weak points and work on building their connection. In the process, they may find the deeper feelings they develop for each other blows that earlier romantic intoxication out of the water.
The Road Less Traveled author M. Scott Peck didn't even want to dignify that falling-in-love feeling with an association to love. Instead, he called it "limerence," arguing that what you feel when you fall for someone isn't love at all.
What long-term couples have, which new couples don't, is a commitment to each other's personal growth, a commitment to conscious behavior, and a commitment to doing the work of loving.
When you know that love is hard work, you're much more likely to ride out those danger zones. You don't expect to be happy ALL the time. Most of the time is good enough for you.
So don't start worrying once your first child is born, or once you've been together for four years. Instead, love smart.
Commit to doing the work that relationships require. See conflict as a necessary stage in growth rather than proof that you're incompatible. Stay focused on constructive actions rather than destructive criticism.
And make sure you always do something impressive for Valentine's Day.
Just in case.