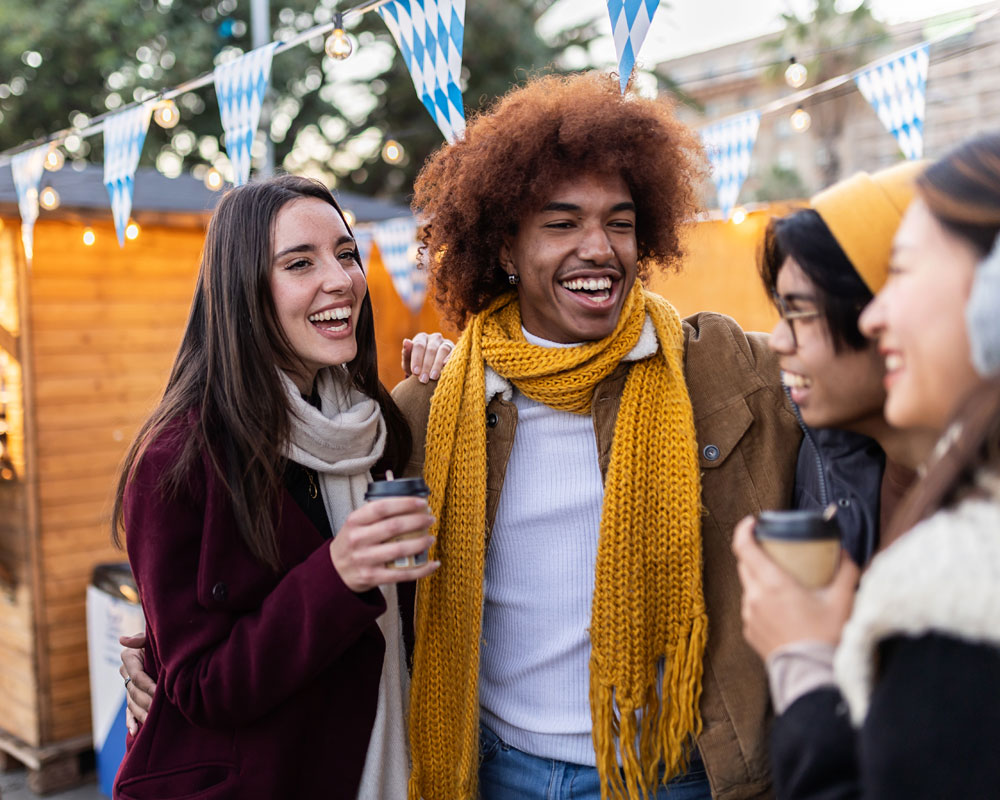 Every generation tells us how to do it their way.
When I was a girl, I was told by my Boomer parents that my job was to go to college, where I'd meet my future husband. After graduation, I'd get married. The skills I learned in college would tide me over until I started a family.
That described their life path, but it didn't describe mine.
My life path followed the norms of my own generation. We were single for longer. We took our time having children.
Today, I'm standing in my parents' shoes. What do I tell my Gen Z daughter about love and relationships?
Can I assume she'll get married someday and have children? How might her life unfold differently to mine?
Social scientists such as Jean Twenge have been studying these questions for decades.
What they've found paints a picture of relationships stripped down to their essence.
Young people today want to find their person.
They're willing to take their time. They don't mind staying single. They have lots they want to do in life.
They're not concerned about checking off the markers of adulthood on schedule. Life is long. It's better to be flexible.
And if they never marry, well, they never marry. Love comes in all forms.
Millennials and Gen Z are shaking up the world of dating and relationships, and it may never be the same again.
How Millennials Are Doing It Differently
Millennials, born in the years from 1980 to 1994, aren't in any rush.
They took their time becoming adults. They devoted more years to their education. They lived at home for longer.
The generation that inspired the term "adulting" wanted to enjoy the freedom, independence, and spontaneity of youth for as long as possible.
Marriage and a family meant settling down, responsibility, and committing to just one possible future.
Is it any wonder that many Millennials preferred to stay single or live with a partner rather than tying the knot?
More Millennials were unmarried between the ages of 25 and 39 than any generation in American history.
This longer period of staying single is paying off. By waiting to marry until they know who they are and what they want, Millennials are driving the divorce rate down.
Investing in more years of education is not only a smart strategy for being able to adapt to a changing job market, but it also strengthens marriages. College-educated men and women are less likely to divorce than those with less education.
Millennials are much choosier than previous generations. Because women have greater financial independence, they don't need to marry for the purpose of financial support. They're looking for men who can emotionally support them.
But that doesn't mean they're not money-minded. Many Millennials couples move in together because it's economically practical. They're less likely to see cohabitation as a trial run for marriage.
Staying single for longer also pays off in another way. Millennials have much more relationship experience by the time they finally marry.
One small survey by a British wedding planning site found that Millennials tend to have had two serious relationships before finally meeting the one.1
The survey found that the average couple was together for almost five years before tying the knot. They dated for a year and a half before moving in together. Then they lived together for nearly two years before getting engaged.
Most felt no pressure to get married. They saw marriage as optional and discussed it at length before getting engaged.
If there's one thing that distinguishes Millennials, it's their higher expectations when it comes to relationships. They expect to be happy. They expect their relationship to help them grow personally and achieve their dreams.
Are they shooting for the moon?
I don't think so. We have more information on relationships available today than at any time in history. Whereas our mothers were taught how to be a stereotypical wife, we now understand that emotional intelligence is the secret to happy relationships.
If Millennials want to get married, they're set up to succeed.
If not, then they can live happily ever after anyway, in the company of friends, family, companion animals, and lovers.
Key concerns for Millennials:
How do I find a good man who's emotionally supportive and committed to growing with me?
How can I get good results from dating apps?
How can I co-create a relationship where I feel happy and fulfilled?
How can I get him to grow up and think about our future?
How can I know I'm making the right decision?
How Gen Z Is Doing It Differently
Gen Z (born from 1995 to 2012) is even less tied to marriage than Millennials.
More than half their parents are either unmarried or divorced.
They have seen that it's possible to have a happy, fulfilling life outside of a traditional marriage.
They're open to anything. As the most racially diverse generation in American history, they have no qualms about interracial relationships. They're accepting of same-sex relationships and non-monogamous relationships.
They're even accepting of non-relationships, or situationships. They're happy to form emotional and physical connections that don't have a label or expectations attached.
If Gen Z had a slogan, it would be "Do It Your Way."
There's one thing Gen Z won't tolerate, however, and that is dating someone with opposing values. Gen Z are more likely to ask about a potential partner's values and political beliefs straight away.
Yet all that openness doesn't necessarily translate into a more fulfilling love life.
Gen Z struggles with loneliness. More than 70% of Gen Z sometimes or always feels alone and feels like no one understands them well.2
Why? It could be Gen Z's struggles with mental health or their reliance on devices. Gen Z is much less likely to meet up with friends than previous generations, preferring to connect virtually with friends from the comfort of their own home.
When they do hang out with a romantic prospect, they're more likely to "Netflix and chill" than do something as old-fashioned as going on a date.
Gen Z may be one of the most self-aware generations. They engage with questions of gender and sexual identity from a young age. They're more likely to enter therapy. They're trauma aware. They believe in the importance of self-love and surrounding yourself with good friends.
Because they're so focused on the self, they may have challenges in relationships. They won't let relationships get in the way of their own ambitions. They know that it's going to be a long, tough road ahead.
This generation is skeptical when it comes to the fantasy of romantic love. They don't believe that all their problems will be answered in finding that one special person. They want their romances to reflect flawed, realistic couples who don't necessarily have the stereotypical happy ending.
In essence, they're crafting a new narrative where authenticity, self-discovery, and shared values form the foundation of their relationships.
Key concerns for Gen Z:
Who am I, what types of people am I attracted to, and what do I want?
Where can I find my tribe?
What's the point of dating? Why not just hang out and see where it goes?
How can I set boundaries around my mental health when I'm in a relationship?
What does love really mean? What does it ask of me?
For more detailed insights on the future of dating, including historical trends and predictions, check out my exclusive report.
---
1https://bridebook.com/uk/article/bridebook-co-uk-marriage-report-2017
2https://www.cigna.com/static/www-cigna-com/docs/about-us/newsroom/studies-and-reports/combatting-loneliness/cigna-2020-loneliness-report.pdf