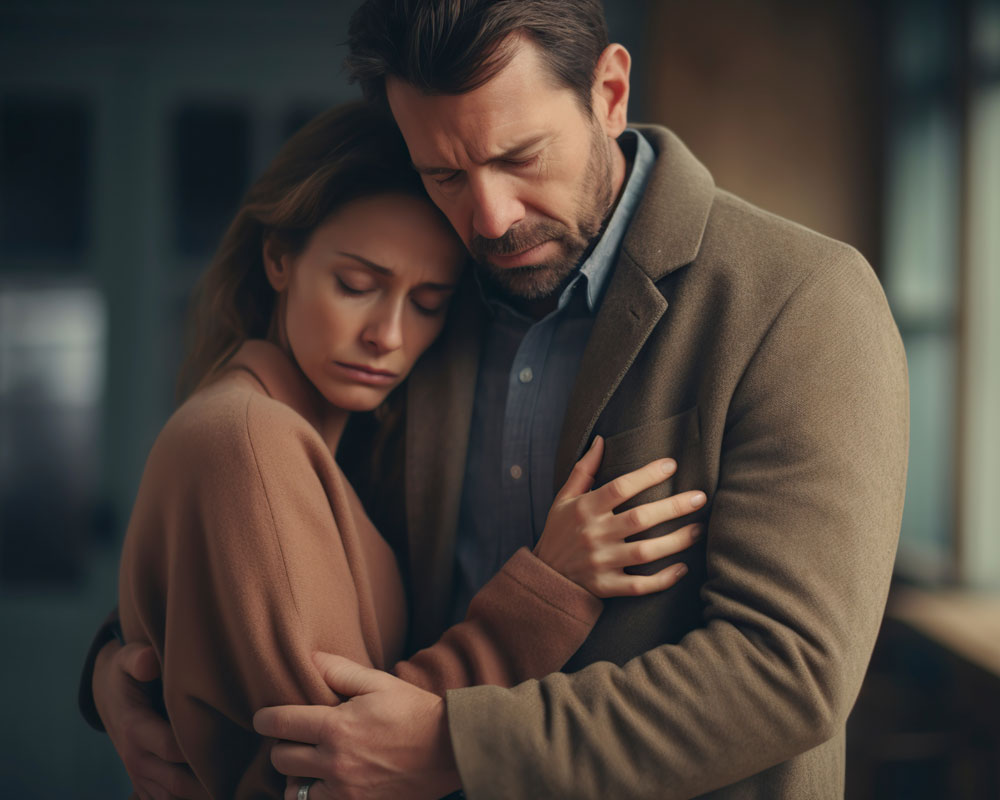 Have you ever been around a person whose mere presence makes you feel calmer and more grounded?
You don't know what it is about them. They don't have to say a word. Just being in their company makes you feel better.
That's the magic of co-regulation.
It seems as if this person has some kind of magic power over you…
But this perfectly ordinary power is built into every one of us.
You have the power to use your body to calm and settle others.
And you should be using it in your romantic relationships.
Where Does This Power Come From?
As human beings, we developed the ability to co-regulate for an incredibly important purpose:
To calm infants.
A baby doesn't know what you're saying, but she knows what you're feeling. If you stay calm and soothe her, she'll calm down.
Over time, she'll use your calming presence to teach herself to self-soothe.
In science speak, she's borrowing your nervous system until hers is more developed.
Catching Each Other's Moods
Children and parents aren't the only ones who naturally co-regulate.
Romantic couples do, too.
The more attuned you are to your partner, the more you feel what he feels, and vice versa.
This power can be both good and bad.
When you feel calm and he feels anxious, your mood can help him feel more settled.
Equally, his anxiety can agitate you until you also feel unsettled.
Take a quick moment to ask yourself:
How does your mood change when he's upset?
How does his mood change when you're upset?
Making Each Other Feel Worse
For some couples, it's a sign of empathy to feel what the other person feels.
You WANT your partner to become upset when you're upset. You don't want him to stay calm.
But having both of you upset just makes things worse.
When you pick up each other's bad moods, this is known as co-dysregulation.
And it can be destructive.
You want your partner to make you feel better, not worse.
You want him to be your safe haven, someone you can go to with feelings of distress and leave feeling more grounded.
The only way he can do that is if he keeps his own nervous system regulated.
That means staying calm rather than getting angry with you.
Calm or Detached?
But there's a difference between being robotically calm…
And responsively calm.
Sometimes we put up walls to protect ourselves from our partner's moods.
We can't deal with it. So we shut ourselves off.
When your partner puts up walls, you can feel it. You need him to help you feel better, but he's frozen. You've lost your emotional connection.
This ramps up your distress.
Imagine a baby who's crying inconsolably. Her mother, exhausted and at her wit's end, feels irritable. The baby senses that irritation and cries even harder.
What should the mother do?
Walk away and leave the baby to cry it out? (Sometimes she'll have to.)
Or do whatever she needs to do to soothe herself, knowing that what her baby needs most from her is a soothed nervous system?
Conscious Co-Regulation
When we consciously soothe our own nervous systems in order to be more available to those we love, we are consciously co-regulating.
We're giving our loved ones the best gift of all:
The gift of our warm, compassionate, steady presence.
How can you practice conscious co-regulation in your relationship?
Here are 5 tips.
Have your own self-regulation toolbox. This is a list of things you know work to calm your own nervous system. You may need to take a walk outside, squeeze a stress ball, or listen to music. It's okay to take a break when you're feeling at your limit. Losing control won't help things.
Know the difference between showing up for your partner and taking on his pain. You want to be there for him. Holding space for him is the best way to do that. You don't have to fix his problem or make it your problem.
Make eye contact. When your partner is upset, your words won't calm him down, but your presence will. Show him that you're here and listening by keeping your eyes on his. Show him love through your gaze.
Touch. Some people don't like being touched when they're upset. Others find it calming. Ask your partner how he feels. If he's open to touch, you can put your hand on his arm, rub his back, or even give him a hug.
Help him name his feelings. When someone is upset, the last thing they want is advice. You can help him more by naming the feeling he's expressing and validating it. "It seems to me you feel betrayed by what he did, and you have every right to feel that way. He shouldn't have done that to you."
When you and your partner put the magic of co-regulation to work in your own relationship, you feel safe coming to each other with problems.
You know that you'll leave the conversation feeling better, not worse.
You will come to rely on each other more… trust each other more… need each other more.
And nothing will be able to replace the connection you share.