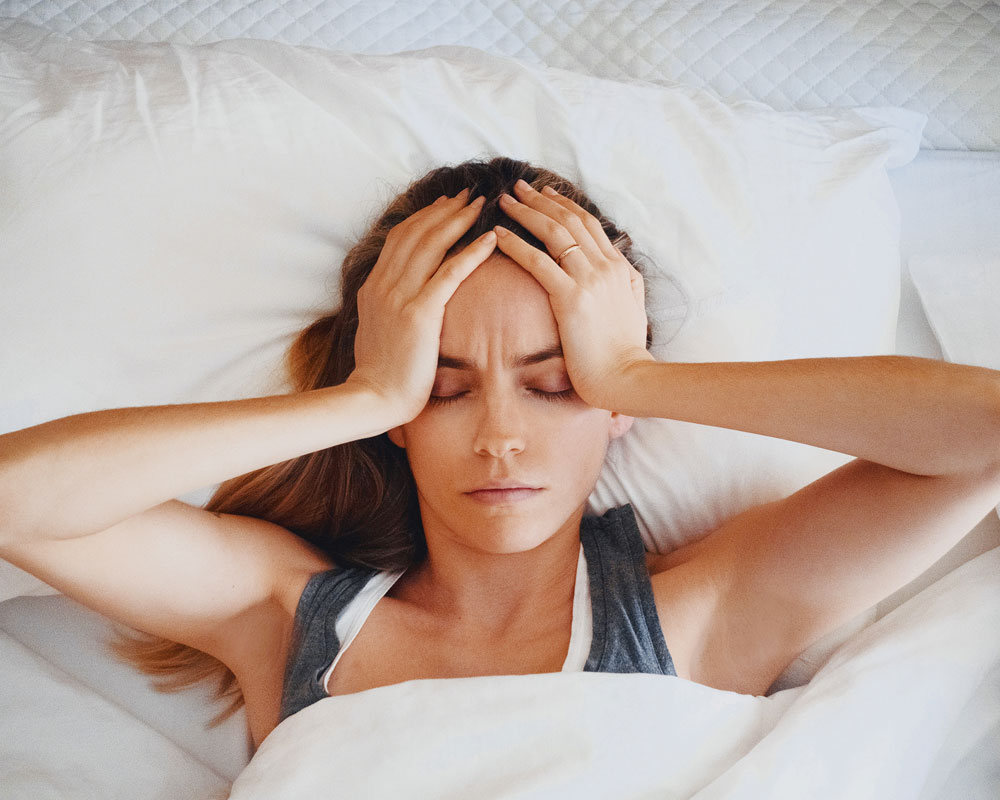 The headache had been coming on all day, and by afternoon I knew it was going to be a full-on migraine.
The only way I knew to get through was to go straight to bed and close my eyes and try to sleep.
So I told my partner, and I went into the bedroom and closed the blinds to get it completely dark and lay down. The room was spinning. I was trying desperately not to throw up.
After 10 minutes, the door opened and my partner came in. He turned on the overhead lights and sat on the side of the bed.
"We need to talk," he said.
My heart sank. It was THAT tone. "Could you turn off the lights?" I asked. "The light makes me sick."
He sat there for a second longer, like he was debating whether to do it, and then finally got up and turned off the lights and came back. "I need to know what's wrong," he said. "You've been acting weird all day. You're withdrawn."
"I have a headache," I said.
"I don't think you do," he said. "I think something is wrong and you don't want to talk to me about it."
"I have a headache. Talking makes me feel like throwing up," I explained.
"Well then, you can sit here and I'll talk," he said.
"Actually, can we do this later?" I said. "I need to sleep. Once I sleep this off, I can talk to you."
He sat in silence. Finally he got up and, not saying another word, shut the door loudly behind him.
Letting Everyone Down
It sucks to feel sick.
But what makes it 100x worse is when you feel completely alone.
The people in your life see the way you're feeling as an inconvenience to them. They don't believe you feel the way you say you do. They think you're just trying to get attention, or you're faking it.
Now, on top of feeling horrible, you also feel guilty.
You know you're making things hard for everyone around you. You don't have the energy to do what you always do. Everyone else has to pick up your slack.
So you try to push yourself. You say, "Well, I can't afford to be sick, so I won't be sick."
You grab some over-the-counter medicine and down a huge mug of coffee and stuff tissues in your pocket and get back to work. You feel miserable, but at least you're not letting anyone down.
Any of you ever done that?
Just Can't Stop
One thing I know a lot of you struggle with is not having the energy to keep up with everything your lives demand of you.
Life today has no wiggle room. You've got to be up every morning, out the door on time, hitting those deadlines, keeping your performance high… or there are consequences.
You can't afford to mess up or make mistakes or get sick, because your life doesn't have room for it.
Your life depends on you being able to perform to a high standard every single day and get all the things done by day's end.
There's no breathing room. There's not enough time off to recover. There's just the endless grind.
No wonder our natural radiance starts to dim.
No wonder we feel tired and weary so much of the time.
No wonder we dream of having a real partner who could share some of the load.
The New Relationship Test
The first time you come down with a cold is supposed to be a test for a new relationship.
Will he stay far away from you until you recover…
Or will he come by with chicken soup and DVDs?
I'd spent most of my life taking care of myself, so I never really thought about whether a boyfriend had any responsibilities to me when I was sick.
All I asked for was the space to do what I needed to get well—I thought that was reasonable.
So, when this boyfriend took my migraine personally, I didn't think of it as a red flag. I just felt annoyed. When I woke up from my nap feeling a bit more human, I went out into the living room and acted like nothing had happened. We "forgot" it.
But I should have been paying attention.
Later in our relationship, this particular guy told me that his parents complained all the time about their health. It annoyed him because he thought they were just trying to get attention.
He didn't believe their health was as bad as they made it out to be. He thought it was just "me-me-me."
Because he, of course, rarely got sick. When he did get sick, he went straight to bed and bounced back within a day. So clearly everyone else who's sick "must" be drawing it out.
The Need to Hide
When we are with people like that, we feel pressure to minimize how badly we feel.
We're on our own, because they clearly don't want to hear about it. We're not getting any empathy from them. If we even mention how we feel, they're going to think we're looking for sympathy.
So we pretend we're fine, and we buckle down and keep going, because that's what we think we're supposed to do.
We don't take the time we need to rest and recuperate. We get mad at our bodies for not bouncing back fast enough.
What should have been a time to stop and rest and take really good care of ourselves turns instead into a time to whip our bodies even harder… and feel guilty for underperforming.
Better Role Models
Now, I'm hoping that you don't relate at all to what I'm saying because you would NEVER do anything like this.
You always rest when you don't feel well, and you never feel guilty for getting sick, because—duh!—it's not your fault. 🙂
If so, then you are my hero. I wish we all had people like you as role models. If everyone was okay with taking the time off they need to get well, it would give permission to the rest of us.
But I also know that my experience isn't unique.
As we get older, and our health isn't what it used to be, and our bodies can't perform like before, so many of us end up feeling ashamed.
We can see that it irritates people when we can't do what we used to do. We can't stay up until the wee hours or drink more than one glass of wine or push hard all weekend.
We have to make allowances for our fragile bodies, and that inconveniences people. And when you inconvenience people, some of them end up labeling you as "difficult."
That's horrifying when you've spent your entire life out-performing everyone else. You want to be the one everyone can rely on. You want to be the last one out the door every single night.
But your willpower cannot change reality.
Bodies need rest.
They need TLC.
And pushing them harder only makes them crash harder.
More Energy or More Rest?
All these energy drinks and powders and supplements are being sold as an antidote to our energy crisis.
Our bodies are crying out for rest, and we're getting the quadruple-shot venti latte.
We're pushing ourselves harder, because we know that our lives depend on us being able to keep going and going and going.
We can't snooze for an instant, or the work will pile up so high we'll never be able to get out from under it.
But listen to Dr. Saundra Dalton-Smith, author of Sacred Rest:
Rest is not for weaklings. Hollowing out space for rest is work. Finding time for rest is the hands and feet of the promises we long to claim. It means saying no. It means having limits with ourselves. It means having limits with others. It takes courage to rest in the midst of an outcome-driven society."
Did you hear that?
Taking time to rest is BRAVE.
We need more than just sleep. We need many types of rest.
According to Dr. Dalton-Smith, we need emotional rest, mental rest, sensory rest, even creative rest.
And she doesn't believe we need to ask permission for it.
You Don't Need His Permission
I didn't need to ask permission from my boyfriend to look after myself when I had a migraine.
I didn't need to ask forgiveness for not being available to him while I was looking after myself.
I wish I'd had the understanding back then that I do now.
I wish I would have told him:
I take care of myself when I don't feel well, because that's what helps me recover and feel better. I'd love some support when I'm not feeling well, but if that makes you uncomfortable, then maybe we need to talk about what we need from each other."
Today, I know that I'm getting older. I know that my body isn't working as well. I know that more health challenges are ahead.
I'm no longer wasting time with anyone who guilt-trips me for taking a rest.
Do you need more rest? Take the quiz.