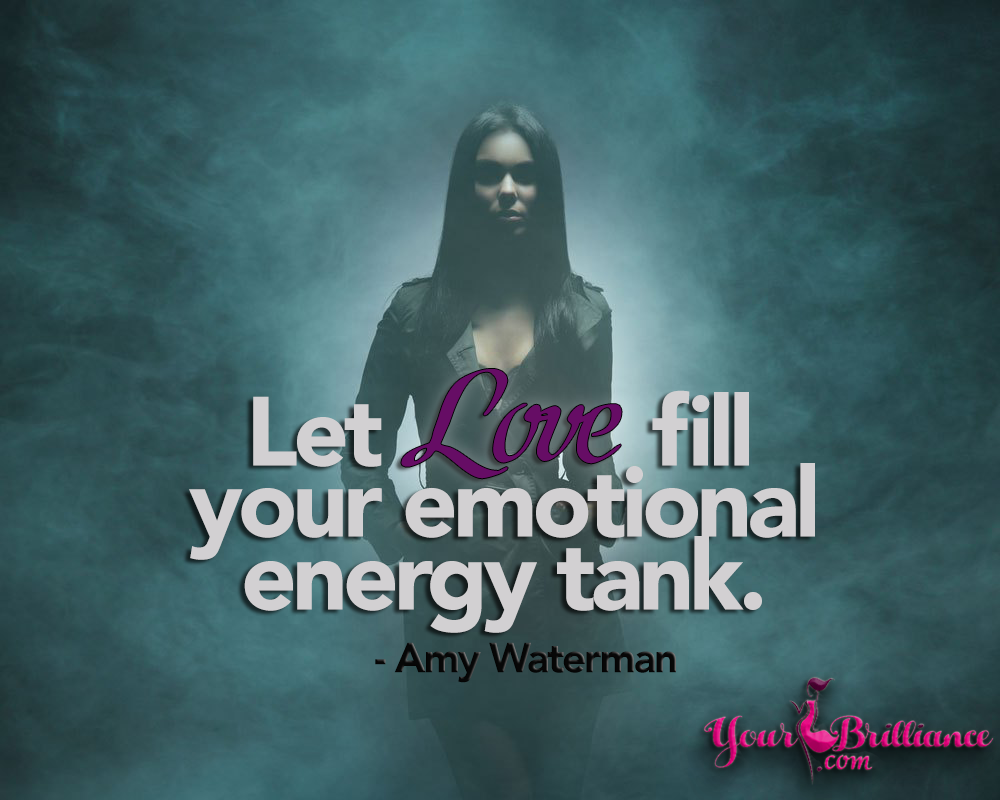 They're all around us.
People who get their energy by draining good feelings from others.
The boss you can never please. The "friend" who cracks jokes at your expense. The family member giving you a guilt trip. The lover in a sulk.
You know you've met an energy vampire when each encounter leaves you feeling drained, down, disgruntled, and out of sorts.
No matter how happy you are when you meet an energy vampire, you leave the conversation feeling as if a big fat black cloud has smothered your sun.
But energy vampires aren't bad people. Often, they don't even realize what they're doing.
That's because all relationships involve exchanging energy.
When you're upset and you call a good friend to talk, you can feel yourself calm down as you absorb her sympathetic concern. She's giving you energy.
Most of us are extremely emotionally generous. If someone is down and needs a boost, we're there with a hug and comforting words. We use our positive mood to bring others up.
But emotional energy is not unlimited.
If you're feeling emotionally unsteady yourself, you may be unable to offer the support your friend needs. You just don't have the energy to spare. You find yourself getting irritated at her. Your compassion has vanished, and you don't know where it's gone.
Particularly if you spend your days assisting others—in social services, eldercare, counseling and other helping professions—you can find it hard to keep your vibes positive. You're using so much of your own emotional energy to lift up your clients that you're at risk of your own well running dry.
That's a dangerous place to be.
When your emotional energy tank is empty, you have to get energy from somewhere.
Caffeine and sugar don't help. They can give you a buzz to help you push through physically, but the fatigue is still there on a psychic level.
If you haven't consciously developed a practice to restore your emotional energy, you'll probably do what most people do:
Try to get fresh energy from someone else.
We use other people to make ourselves feel better all the time.
Perhaps you look at a co-worker and have an unkind thought about that shapeless sack she's wearing. Suddenly, you feel better.
Perhaps the sink is piled high with dishes, and you search out your roommate to tell her off for not pulling her weight. Your self-righteous indignation makes you feel better.
Perhaps you're in a bad mood, and you look over to see your partner laughing at something he's reading on his iPad. You snap at him for wasting the day on Facebook. He looks up at you, his good mood gone. In some strange way, you feel almost happy.
That's energy vampirism.
And it's such a normal part of how we operate that we don't realize we're doing it.
So where can you get your energy needs met, if not from other people?
You learn to consciously connect to an alternative energy source, such as creativity, nature, spirituality, or love.
We all know what recharges our batteries.
For some, it's taking a weekend hike. For others, it's losing themselves in the act of painting or writing. For others, it's going to church or connecting with their spiritual source.
These activities fill us up inside. When practiced regularly, they help us stay centered, peaceful and positive.
Another way to fill your emotional energy tank is to fall in love.
Love gives us enormous reserves of strength. When you love someone, you can give of yourself endlessly, without feeling drained. That's because love is filling your tank just as fast as you're using it.
No wonder couples are so happy in the early days of relationships. They're giving one another emotional energy like crazy.
Some experts suggest that's why the honeymoon phase ends with such a crash. Couples get used to the abundance of energy flowing their way. But eventually the novelty wanes. The couple begins to experience energy withdrawal, as each person withdraws some of the focus that was exclusively on the relationship and starts focusing on his/her life again.
The only kind of love that can reliably fill your emotional energy tank is the love you feel towards others, not the love others show towards you.
Don't rely on someone else's love to make you feel better, even though it helps.
Instead, focus on how much you love your partner, or how much you love your life, or even how much you love your favorite mug. There are enough things to love that you'll never run of options.
So what should you do about those energy vampires who suck the joy right out of you?
Understand them. Forgive them. And do your best to limit your contact with them.
You're not obligated to offer up your blood to a vampire who's feeling peaky. You're not obligated to offer your attention to an energy vampire in need of a pick-me-up.
When you feel your emotional energy getting sucked away, visualize a white bubble of protective light around you. If you can, excuse yourself politely.
If you can't—maybe the energy vampire is your boss or a client—then make a commitment to keeping your own emotional energy tank as full as possible. However you do it, make it a daily practice. You'll find it easier to deal with energy vampires when you're fully charged.
Learning how to recharge our own batteries has an even larger role. It takes us one step closer to world peace.
As long as we think other people have what we need to feel good, we'll continue competing, fighting, intimidating, and insulting to get what we want.
But the energy we crave is all around us. It's in the beauty of the world, the peacefulness of spirit, and the magic of creativity.
Human sources are a pretty poor substitute for the limitless energy of creation.