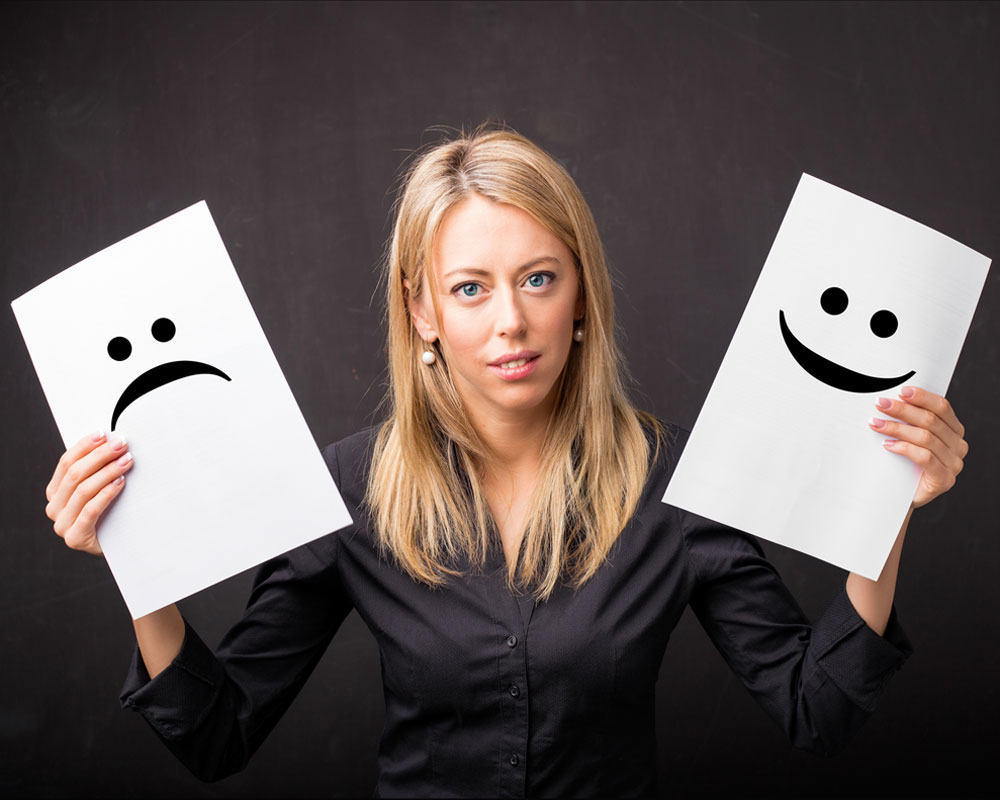 Depression is caused by a chemical imbalance in the brain."
That's what you've been told.
That's what those sad/smiley face ads say.
That's what your doctor tells you.
But Dr. Kelly Brogan wants you to hear the other side of the story.
Research is now showing that "depression" is more like an umbrella term, covering a range of conditions.
There may be 12 different kinds of depression, all caused by DIFFERENT things.[1]
Depression symptoms could be caused by common medications (birth control, beta blockers, Accutane[2]), chronic inflammation, certain illnesses, environmental toxins, even your diet.
Which means that popping an antidepressant or signing up for talk therapy may not fix the problem.
Dr. Brogan is a board-certified psychiatrist on a mission. She wants to help women get happier and healthier without drugs.
Yet 1 in 4 women over the age of 40 is taking an antidepressant.
Almost 10% of visits to a primary care physician end in an antidepressant prescription being written.
Depression costs a staggering $210 billion per year.[3] It not only affects a woman's health, but also her productivity at work and ability to be present for her family and loved ones.
If antidepressants worked, then we would expect that rates of depression would be going down as the number of prescriptions goes up.
But that's not the case.
And Dr. Brogan thinks she knows why.
"In six decades," she writes, "not a single study has proven that depression is caused by a chemical imbalance in the brain."[4]
The beneficial effect of antidepressants could be a result of the placebo effect, whereby taking a pill—ANY pill—makes a patient feel better.
Studies have even found that people taking antidepressants may experience a worsening of their symptoms.
Antidepressants can make a person suicidal. They come with a host of unpleasant potential side effects, including liver damage, weight gain, loss of libido, and increased risk of violent behavior.
Antidepressants can even wreck your relationship.
One study found that taking SSRIs can make men feel less likely to take care of their partners or ask for help. Since taking the drug, they don't feel as emotionally close to their partners and aren't as sure they want the relationship to last forever.
For women, tricyclic antidepressants have a greater impact on their relationships, causing issues in their sex life.[5]
Not to mention the little-known fact that it's hard to get off antidepressants if you've been taking them long-term. Few doctors are informed about antidepressant withdrawal or the challenge of weaning patients off them.
No wonder Dr. Brogan doesn't hand her patients a prescription when they come to her complaining of fatigue, brain fog, low mood, PMS, constant anxiety and overwhelm.
She hands them a diet instead.
Dr. Brogan discovered that chronic inflammation is usually at the root of depression.
By following an anti-inflammatory diet, along with meditation and exercise, her patients start to feel better.
The notion that inflammation causes depression isn't new. Doctors have known that inflammation affects mental illness for more than two decades.
If you're eating a standard American diet, then you probably already have a low level of chronic inflammation in your body.
Every time you down an energy drink or eat a high-carb snack, your blood sugar spikes. That high doesn't last. Once it crashes, you're back to feeling tired again. So you reach for another snack, and your blood sugar spikes again.
Over time, this roller coaster does a number on your health and mood.
What's the alternative?
Getting rid of EVERYTHING that spikes your blood sugar and causes inflammation.
It's not pretty to think about getting rid of dairy, gluten, and sugar, but Dr. Brogan insists. She recommends a Paleo-style diet. If her patients can't commit to following this diet for 30 days, she won't work with them.
She also asks her patients to throw out their chemical cleaners and personal body care products, replacing them with natural alternatives. She encourages her patients to practice meditation and try to see their depression as an opportunity to make necessary changes in their lives.
Ultimately, she wants her patients off as many medications as possible. That means replacing birth control pills with other methods and ditching over-the-counter painkillers like acetaminophen and ibuprofen.
Like heart disease, treating depression needs to start with lifestyle changes. From there, your doctor can explore other possible causes, including low levels of B12, thyroid issues, and leaky gut.
If you're scratching your head here—isn't depression a mental health issue, not a physical health issue?—you're not alone.
Mental health has traditionally been treated separately to physical health.
But many physical illnesses come with a side dose of depression—autoimmune, Parkinson's, and hypothyroidism, just to name a few.
Mental health and physical health are irrevocably entwined.
To find out more, check out Dr. Brogan's New York Times bestselling book A Mind of Your Own. Once you learn what she has to say, you'll never be able to look at depression the same again.
---
[1] https://kellybroganmd.com/the-many-origins-of-depression/
[2] https://jamanetwork.com/journals/jama/article-abstract/2684607
[3] http://www.workplacementalhealth.org/Mental-Health-Topics/Depression/Quantifying-the-Cost-of-Depression
[4] https://kellybroganmd.com/wp-content/uploads/2016/02/7FactsAboutDepressionFinal.pdf
[4] https://www.sciencedirect.com/science/article/pii/S0165032714002377